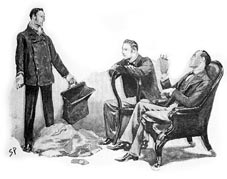 Japan Sherlock Holmes Club - past and present



On March 21, 2003, the 50th Convention of the Japan Sherlock Holmes Club (JSHC) was held in Tokyo. About 100 Japanese Sherlockians from all over the country gathered at a hotel near the Tokyo Edo Museum. The commemorating speech was addressed by ASHIBE Taku, one of the popular authors of mystery fictions in Japan. NANKO, a professional story teller in the Japanese traditional style, very much impressed the audience with his own story originated from "the Adventures of the Speckled Band."

JSHC was founded in October 1977. The number of members has grown every year from the first seventy to more than one thousand members at present. "The Baker Street Newsletter" is sent to every member monthly. A series of booklets, "The World of Holmes", is published at the end of every year for the members.
The convention of the Club is held twice a year, one in Tokyo in March and the other in another city in summer or autumn, while local meetings are continuously held in several cities and towns. Various studies and news on the Canon, parodies and pastiches are being made available to the members through these publications and meetings. Even the opening of a new bar, when it is just named Sherlock Holmes, is sometimes a topic in the newsletter.

A 1000-page encyclopaedia was published in the Japanese language two years ago, after the compilation by KOBAYASHI Tsukasa and HIGASHIYAMA Akane, distinguished Sherlockians and the founders of JSHC, of studies on Sherlock Holmes and the Victorian Era by JSHC 161 members. The compilers have just finished publication of the translated Canon based on the Oxford University Press edition. Many famous and popular foreign books have been translated into Japanese by TANAKA Kiyoshi, HIGURASHI Masamichi, KITAHARA Naohiko, TAKATA Hiroshi and others. They are all the members of JSHC. KOIKE Shigeru and MIZUNO Masashi are also the members and they publish books on studies related to Sherlock Holmes.

You can visit a bronze statue of Sherlock Holmes in a small park in the outskirts of Karuizawa Town, about one hour ride by Shinkansen (Super-express train) from Tokyo. The details can be found in another page of this website.